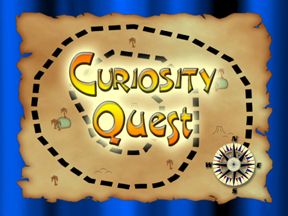 I don't know about you, but I have all these great Field Trip ideas in my head.  And that's exactly where they stay....in my head.  
Wouldn't it be nice to be able to visit an Orange Grove on a cold, rainy day and not even have to get out of your cozy slippers or leave your house?  That's what the Kiddos and I did a few weeks ago.  I can't wait to tell you about Curiosity Quest.  I was able to Review two different DVD Combo packs, Swimmers of the Sea and Produce. 
Each Combo Pack offers 3 incredible episodes, each episode is approximately 30 minutes long and they Retail for $24.95. 
Every episode starts off with a Question sent in from a Kiddo out in TV Land. Your Kiddos can submit their topic ideas too online.  During the episode,
Host Joel Greene

explores different things that are all associated with the particular topic of choice.