We have finally finished Algebra....it took what seemed like many many years, but it is done. During the whole Algebra time we did take a break and did a short Geometry Study. But, I wasn't convinced that it was going to be enough to adequately get Mahala to where she wanted to be in her Math. Recently we started working with an online Math program called UnLock Geometry from UnLock Math. We used them a few years ago for Pre-Algebra and wrote a Review. We loved it, so after asking myself why didn't we continue after Pre-Algebra I quickly logged her in for her to start their New Geometry program.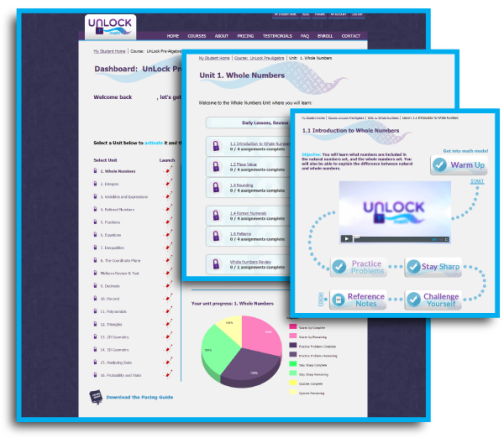 I will say that with Mahala's struggles we thought having a text book or work book would help her instead of just learning online. Honestly I think we were jumping around a whole bunch just exasperating ourselves and causes both of us Math anxiety. My suggestion for anyone who has a kiddo struggling with Math is to stop, look at what they are good at and how it's being taught to them. Then try to implement that learning style with their Math. Also, try for a little longer then what you want to before switching. Because chances are that it just takes a little time for your kiddo to take a few bad scores, buckle down, tweak the delivery and try a little harder to see those Ds to turn into Bs and As. But, this is just our own personal story of Math set backs.
This Geometry course is brand new and begins with Prerequisite Skills and goes all the way to Polygons, Triangles and Circles in just 12 well laid out Units. I will say that the instructor, Alesia Blackwood is passionate and makes learning Math seem more like a journey instead of just boring lessons. Words from Mahala's mouth after the first few lessons. I already had her working on another Geometry Math course and she was ecstatic when she recognized we were Reviewing for UnLock Math again.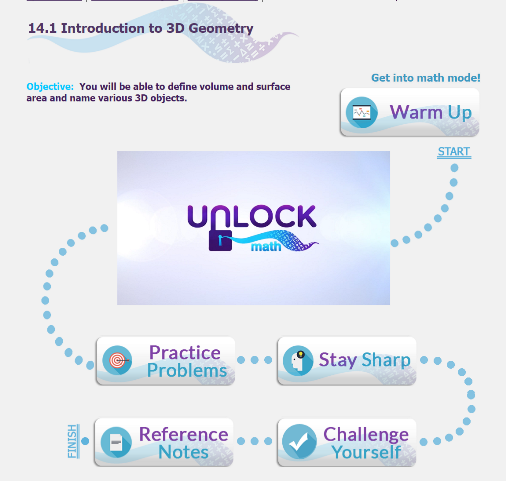 So, let me give you an average log in walk through. We were very familiar with the set up. You have a Parent/Teacher log in and a Student log in. I really did not use the Parent/Teacher log in I could access everything I needed from Mahala's dashboard. Once logged on she can see a list of Units and then that's where she gets to pick what lesson she wants to work on and then begins a short warm-up session to get the blood flowing to her brain. Next, she watches the video instruction and then continues with working on the Practice Problems. The only thing with this, the Stay Sharp and Challenge Yourself sections is once you submit an answer you can not go back. A few times she has typed something in a haste, submitted it....only to realize she wrote the wrong thing down because of typing to fast and not paying attention. She's learning though....and working on that. It reminds you every single time you enter into the section, she blames her ADD. :) I would say one of the most useful sections is the reference notes. She likes to have everything in one place, so we have printed them out and put them in a folder.
We will definitely continue this course and will be looking into UnLock Algebra 2. I think one of the main things Mahala and I both enjoyed is that it was an actually person teaching and not a cartoon or just a voice. She felt like it was easier to stay focused while watching the videos. It's nice that they are broken up into small bites and not one huge long 30 minute long video. Mahala felt like the material being taught was more in depth and explained it in a way she was able to remember and use while working on the problems. Another highlight with this course is that it's very independent and the grading and keeping track of things is all done for you. A Parent/Teacher's dream to have one less thing to do. I would definitely recommend this program for anyone who has a child that works well independently and with video instruction. I encourage you to head over and Connect with UnLock Math today with Social Media.