This post is going to be a fun one to write! Because just a few weeks ago our Family was Blessed with the opportunity to Review not one....but two Awesome games. You know we LOVE games around here. I use them for those moments when I'm trying to get dinner finished, for teaching during our school time, cheer up a sad Kiddo, past the time when it's bad weather outside and let's not forget those fun Family Game Nights!!! USAopoly graciously gave us Wonky: The Crazy Cubes Card Game and Tapple: Fast Word Fun for Everyone in exchange for Our Family's opinion. (Each Retail for $19.95)
Once we opened our shipping box the Kiddos were eager to play ASAP. We quickly opened both up and decided to play Wonky first because Tapple needed batteries. So, while Dad was off in search for a couple of batteries we were mesmerized by the brightly colored wooden blocks that would put any block stacking game to shame. These blocks weren't just pretty and vibrant they were specially shaped to give you a Unique game playing experience every single time you play. You see each of the 9 blocks are 1 of 3 different colors and have "wonky" edges that make it extra interesting when your trying to stack them. :)
So, let me give you an overview of playing the game. The Kiddos and I gathered around the table and we arranged the blocks in the middle. We each got 7 cards and the cutest was the first to go....that would be Kaden! Once it's your turn you lay down one of your cards that will instruct you in what size and color block to play or you can use one of the "gotcha" cards. That's what we call them....that would be one of the reverse or a pass card. Those are great to have when you don't want to place a block. ;) If you can't play a card then you draw one. And if the tower falls on you within the count of 3 you have to pick up 3 cards. The Winner is the one who goes out first or the one who can stack all 9 blocks....Mahala has done this only once!!! Yay her!!!!
Tapple is super fun too! I played more of this game with them during school....oddly enough I don't have a picture that didn't come out too dark and blurry, sorry about that. But, non the less we played this game by the rules and we even came up with our own. First I'll tell you the given directions. Tapple does not come with a box, but the little cards fit neatly inside the actual game unit. Great for keeping up with everything!!
So, to start you want to pick a card, one side is a little easier then the other and there is 2 to choose from on each side. Once you have chosen you say it out loud and hit the Red button that starts the 10second timer. As fast as you can you need to say something that relates to the category picked that starts with a letter on one of the tiles not pressed down. Once you say the answer you click the letter tile down, push the Red button and pass it to the next person. And of course they repeat the process. If a person can not say something and push the tile down before the 10 seconds then they are out for the rest of the game. The Winner is the last one standing.
We decided to bring this into the classroom for some extra fun. Mahala and Kaden played by making up their own categories. We used this for both Science and History. They also made up their own version of hangman by using the Tapple Wheel. It was really cute to see them thinking outside the box. And I was pleased to see that the Tapple Wheel encouraged them to be creative. :)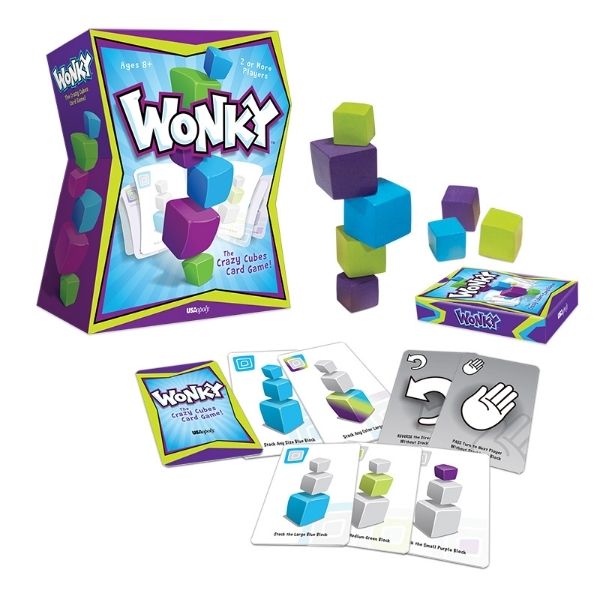 Here is the part where I tell you if we liked the Review Item or not. Well, we Loved them!!! They both were HIGH QUALITY products....from the packaging, the product and their storage capability. Both games came with cards and they were sturdy and high glossed, so you could wipe them down if you needed to. :) We buy tons of games....these were extremely affordable based on the quality of the products, the amount of hours the actual games will provide your Family and the fact that these games can be played by just about any Human Person no matter your age.
You know, Kaden has Autism and sometimes there are a few changes we need to make for him to enjoy as much as us, but honestly he played with no modifications. His motor skills are poor, so Wonky was a challenge, but it was a welcomed challenge. He didn't get frustrated, but I can see where if the tower constantly falls it may be discouraging. And if your Kiddo is sensitive to sound you can build your tower on a place mat. After we forewarned Kaden he knew to expect it from then on out. If we had to pick one over the other the Kids and I both agreed that Wonky was our Favorite!!!
That's about it. both of these will be among our favorites for a long long time.