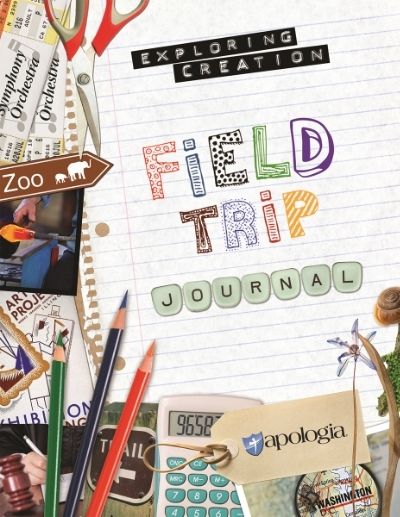 Do you take your kids on Field Trips through out the year? I do and I love every little part of the process from planning to rehashing about it on the car ride home or the day after. Due to some events within our Family the past few years, Field Trips have been kind of on the back burner. Only a few here and there and not a lot of rehashing going on. I've missed this part of our Homeschooling experience so much and had vowed that this Summer was going to be different. The start of new experiences and exploration along with many visits to some Family Favorite locations. Since this was on my heart for awhile now I was thrilled and my heart skipped a beat when I saw that Apologia Educational Ministries was offering me the opportunity to Review their New book, Exploring Creation Field Trip Journal ($22). Seriously, how cool was that and at the most perfect timing possible!
Once I received the Journal I was so impressed with the products look and quality. But, I wasn't surprised really because I have Never been disappointed with any thing I have ever used in my Homeschool from Apologia. They have only the best curriculum and resources to offer their Homeschooling Families! The Journal is Spiral bound with a glossy front and back along with heavy pages to write on. This book has a scrap-booking, collect and keep look to it. It's bright, fun and It's divided into easy to use sections with directions for you to use completely or tweak to fit your needs.
Here are a few of the Sections in the Journal:
Places I've Explored in your State, the United States and in the World – Here you can record all the places you have seen from locally and far, far away.

Field Trip Pages – This section is the bulk of the book where you get to share details of all your field trips.

My Special Spot – This is very unique and I wasn't sure the kids would even use it, but surprisingly they had their own ideas on what to put down on those pages before I had come up with a bribe to get them to do it. I was Happy about seeing them unleash their creativity! This section here you can share details of your special spot in nature in each of the different Seasons with details. It's a way for you to stop and recognize subtle and not so subtle changes to your special spots.

As I See it – Here you can record your special thoughts, ideas and drawings. Some pages have words and pictures for prompts while others are completely blank to give your kiddos room to let their imagination take them where ever they choose to go!
So, this is how we used it.....we decided to have both Mahala and Kaden collectively use the journal for this review period. We knew we were going to Malibu on a camping trip and we were going to Disneyland for 5 days during the review period so we had a perfect opportunity to use this new resource. I almost forgot to mention that you will have at your finger tips everything you need to prepare for your field trip in a section of the Journal called Preparing for a Field Trip. Checklists for the week before the actual trip, the night before, on the way to your trip and at the field trip. Lot's of information and tips to make your experience more fun and less stressful! Love it!!!!
Also, I found that the grids filled with over 100 Field Trip Ideas...."off the beaten path" and "from your backyard to half way around the World" was more then helpful. And it added a few extra stops to explore on our to-do list this Summer! ")
We went through and filled out a few of the pages in the Places I've Explored Sections. Mahala just went on a Mexico Missions trip so she was excited to fill in that info. Afterwards we went to the Special Spots section and even though we couldn't get to them during the review period we have them on our list to go to through out this next month. I had each child pick a season, luckily it just worked out for us perfectly, but I can see that I'm going to have to get another one so that they can each have their own and they can personalize it how they want.
Mahala did a page on Disneyland and Kaden did one on Malibu. I loved how it prompts kids to write down key information, but still leaves the door wide open for their own style to shine through. They can add a little or a lot to their pages. I think having the kids write out what they want to see or do for sure during their trip helps them have focus and gets them to think about the event before hand. My Favorite part is the section "Story of My Day"....it's not a book report or a list of 20 questions. Just a place for the kids to recreate a section of their day. To sum things up instead of dragging out a long 6 page essay on what they got out of the field trip. Mahala really connected with the section"Something I Never want to Forget". How sweet and Special. Just a few lines for a moment during the day that your kiddo never wants to forget. I mean let's face it, with age things start to look a little fuzzy! :)
Did I like this resource? Yes, like crazzzzzy I did! Where has this sweet Jewel been all my ears of homeschooling??? I think this is a great addition to your school because we all go on field trip, maybe not as much as you want, but they do still happen. And when we go we like to document and make sure they kiddos actually got something out of the experience. This combines the both of those into one neat little book. It would work with any homeschooler with or without Special needs. There is no rules to follow, just add what you want and totally personalize it as you explore your world together with your children.

You must at least check this out......Find out more on Social Media!