I have been on a journey for a long time to heal myself from my past. My childhood past all the way up to just 5 years ago when my whole world was rocked by the discovery of my Husband's addiction. Therapy, life change and most importantly Jesus Christ every single day and I am a completely different person then I was just a few short years ago. But, just because I have made a huge shift in my heart and life I still have to surrender every single day. And I have to fill my mind with healthy ideas and words. I get these from the Bible obviously, but also from my music I choose and books I read.
Recently I was given Restore written by Vince Antonucci from Tyndale to Review. The layout of the book is to be read over 30 days. Due to a prolonged sickness it took me a lot longer, but I am better because of it. I was able to really season my heart with the words within these pages. Within the book 6 Steps are revealed to Gain Freedom....Honestly they are on point. My heart is still swooning over this book.

The 6 Steps to Freedom
The stories within this book goes straight to the core of your heart. There is a piece of me in all of them. The explanation of insanity made me have a hallelujah moment. I mean why do we do something over and over, expecting something different to happen...yet we walk away feeling more and more empty inside? Only to get up the next day to do it all over again!
I love the Top 10 lists he's added throughout the book and the extras in the back. The Notes are terrific because it gives verses and the exact location in the book it's referring to. But, my favorite is the discussion questions to use along with each of the 6 Steps.
This would be a great book to read if you struggle with any form of addiction or have a loved one who does. I have highly recommended this book to our Celebrate Recovery group at our church. This book would also help someone who has been hurt, who is struggling with letting go. I plan to reread this book with my Hubby, because every day is a new day to make healthy decisions and we just can't do that alone without each other and God.
Book Info: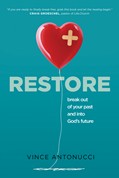 ISBN:
978-1-4964-1577-6
Trim Size:
5.5 x 8.25
Binding:
Softcover
Release:
January 2018
Get Your Own Book from
Amazon
!
What should we do when we feel stuck in life?You know how it feels. There's a hurt in your past that is hard to get beyond. There's a bad habit that's difficult to break. There's a setback that is just too tough to overcome.

We all have our own unique situations in which we feel "stuck." Americans' favorite suggestions for how to fix our lives—self-help programs, self-esteem techniques, or simple willpower—leave many of us ceaselessly spinning our wheels and feeling just as "stuck" as ever. Vince Antonucci knows what this feels like, and he knows many who have struggled to fix their lives with these dead-end methods. He struggled to get past the pain of a neglectful and angry father. It wasn't until Vince decided to go through a recovery and rehab course, focused on God, that he learned ways to break free of that hurt and to live in God's future.

Today, when someone walks through the doors of Vince's innovative church, located just off the Las Vegas Strip, he offers a Restore class as one of three core classes that every member takes. He knows how important it is to learn to break free of these old hurts and bad habits. The essence of that popular class is contained in this book.

Move past your past, heal your hurts, and break your bad habits.