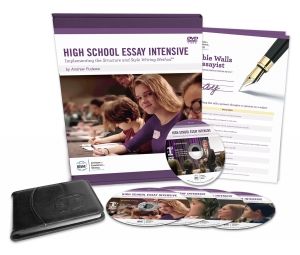 "Mom I'm going to go upstairs and write," said my daughter. What? Yes, you read correctly. Mahala has been writing her little heart out since we discovered the High School Essay Intensive from Institute for Excellence in Writing. I couldn't have been any happier when I found out that we would be able to use and review this program in our Homeschool.
This is the brand NEW 2nd edition and comes with over 6 hours of seminar instruction on 5 DVDs in a high quality case. Also, we received 28 pages of printable notes and the NEW portable walls for the Essayist folder that has many writing tools, reminders, strategies and so much more. Every student should have one of these! The program is designed for Kiddos in 9th-12th grade and is sure to get your student on the right track when it comes to essay writing. Andrew Pudewa, an amazing Writing Instructor has almost a comical approach to essay writing and I was excited to get Mahala started right away. We have been working around the clock with her writing. This is her last year coming up and this program will help prepare her for the essay portions on the ACT and SAT. Not to mention all the college essays that are literally around the corner for her.
Mahala has always been intimidated with all things English, but especially writing. She always seemed to either write as little as possible or ramble on so much you forgot you were reading an essay. But, she has grown a lot this past year and her world has opened up to many things including a new love for Poetry and Classic Literature. :) She was a little reluctant to do yet another writing program, but it seems that a homemade brownie and a trip to Starbucks has magical powers over her.
Funny thing is that she enjoyed the program so much. She paused the DVD several times to run in and tell me everything the Instructor had to say. She was blown away when he admitted he doesn't really like writing. She was able to relate to him, relax and honestly learn. On her own she took out her notebook and started jotting down notes. She was so impressed with the amount of new information and technique that she learned in such a short time. She has a list of traps to not fall into, common things to avoid, how to manage your writing time and many more vital tips for success.
I was happy to sit in and watch as he described the full process, guidelines and what she can expect to have happen when she is face to face with her blank sheet of paper.
All in all I feel like she is better prepared now more than ever. She has something now she didn't have before....Confidence. So, what did we think? We think that this is exactly what she needed at this point in our Homeschooling. There were not a lot of assignments given in this course, so it's not a full writing curriculum. You would want to get this to prepare your students to write successfully. If you are like me and buttoning up your high school student and ready to send them off to college.....check this out. If you have a writer who needs confidence....this is a Must.