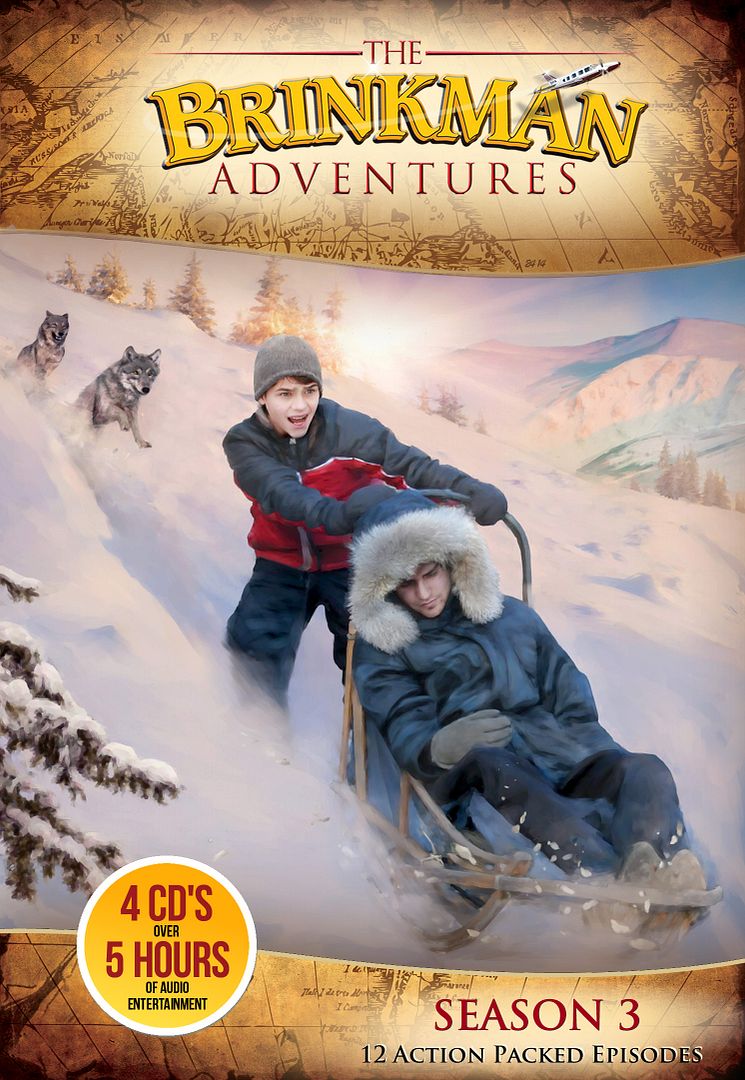 Last year my eyes were opened to the amazing Brinkman Family and their Adventures. I had never heard of this wonderful Missionary Family before, but was thrilled getting to experience Season 2 of their adventures. Right after I reviewed season 2 Kaden was in my ear asking about the next season......for several months I was questioned and he even would go online and check out their website. I was so excited to be able to share with him that
Brinkman Adventures was giving us the opportunity to Review
The Brinkman Adventures: Season 3. And this time we were given a physical copy. So, we could take it along with us anywhere!
The Series is a Christian Audio Drama/Entertainment Adventure suitable for the whole Family to listen to and enjoy. The Brinkmans are a Homeschooling Family with 10 Kiddos that are what I would call Real Modern Day Missionaries. The Stories told are based on real life situations and will keep you on the edge of your seat.
BrinkmanAdventures: Season 3 is 4 CD's and comes in a durable plastic case. Great for safe keeping and car trips. There are over 5 hours of adventure in Season 3! You will be in suspense in all 12 episodes and each of the stories are roughly 20-30 minutes long. You can also get the season as a downloadable MP3.
Here is a look at the stories in Season 3:
*A Saint's Story parts 1 & 2
*Busy Bees and a Bullhorn
*Missionary Tourist parts 1 & 2
Like I said before, Kaden was waiting a long time for Season 3. So, when the CD package was brought in from the mail one evening after we had been out all day I reasoned with him to just wait one more night and first thing in the morning we would listen to them. The next morning at 5 am.......here comes Kaden with the Brinkmans and a HUGE grin. Ok Buddy, let me make a troff of coffee put on my slippers and I'll be ready. After an hour or so of listening and then checking out their website for Behind the Scenes goodies I started making breakfast and he went off and played with Legos. Long story short Kaden wasn't just playing Legos, but also listening to more Brinkman Adventures. He hardly ever gets excited about anything. Honestly, Nothing intrests that kid unless it has a Lego logo or has something to do with coding/math. So, even though I was excited for him....I was thinking hey, I didn't get to listen. :( But, never fear you can definitely listen to these adventures more then once. I got my chance a few days later when we took a long car trip and again while out and about doing errands. :) Kaden is thrilled to just sit back and listen to any of the Brinkman's Adventures while I make breakfast in the mornings and usually by the time he's finished eating the episode usually has ended and then we have a chance to discus what took place and what he learned about it. All kinds of questions were brought up during each episode. I Love when that happens!! And the Unit Studies we were able to build off of the episodes were amazing, not to mention some really nice art pieces that he drew while listening. We honestly learned about things we had not intended to study this year. For example we learned a lot about Alaska, Survival in Nature, Africa, Bible printing and Getting it into the hands of many, Insects, Glaciers and many others to come as we go back through them.
On their Website you can go check out the Real Stories Section, this is a MUST!!! There you will find each episode listed with more information, amazing pictures and videos. This was one of Kaden's Favorite things to do after each episode. I almost forgot, but you can also listen to a Sample Episode online too.
We ended up listening to all 12 episodes (over 5hours) in just under a day......maybe not the norm, but what can I say! :) But, we didn't just toss it to the side.....instead we listened to them over and over and over and look for things missed from before. You know how Kiddos can get hooked on a certain movie and it gets played over and over.....that's The Brinkman Adventures to Kaden. One thing that I thought was neat that both Mahala and Kaden did after this season, was to recreate small portions of a few of the episodes. Just yesterday they were checking Homer's pack for smuggled Bibles out on our huge hill in our backyard. It was a sight....I wish I would have snapped a picture of it. :(
So, what did we think.....do we even like this Brinkman Family? Big Happy Roll on the Ground, Love to the Moon and Back YES! We Love it because it's really with a small twist of fiction. It's not just read to you in a monotone voice. It's action packed and full of excitement. You hear back ground noises that you would assume would be there if you were actually there. You hear crunching snow, animals in the back, dropped items and life....the stories come alive as they walk you through their Adventure. I think most Families would highly enjoy the Stories and Adventures the Brinkmans have to tell. And all the Extras on their Website is just Major Bonuses!!! And guess what? Kaden's already waiting on the next Season.....trying to wait patiently!!