I Love Music and having Kiddos gives me an excuse to listen to not so "grown-up" tunes! :) Shhhh, don't tell anyone!
One of my recent products to try out and Review this Summer was from Happy Kids Songs. They sent me Three downloadable song sets (15 songs total) and the Happy Kids Songs Workbook: Hands-on Activities to Build Character, Social and Emotional Skills ($12.56). Why wait till the end of the Review....can I just say that I am Thrilled, Impressed and totally over the Moon in Love with this product.....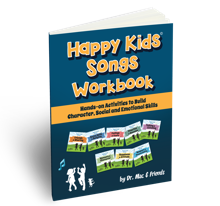 Here are the Different Sets we had a chance to Review. Remember that even though these Songs are geared for kids ages 3-8, I'm sure your whole house will be singing after you listen to them. Each set has 5 Exciting Songs that can be bought as a set for just $4.95 or downloaded as single songs for only .99 each. You can then burn them onto your own CD if you want to. You will also receive a free download of all the song lyrics and activity sheets. You will have some Happy Kiddos! The songs are written by Dr. Mac, he is a child psychologist, school consultant, lecturer, and award-winning songwriter. He wrote and directed the music for the PBS hit kids show Jay Jay the Jet Plane.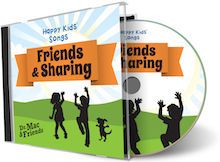 Sailing on the Seven Cs
Everybody Wants to Find a Friend
Sharing Friends
Happy as Happy Can Be
Together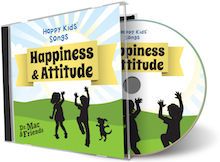 Shake It Out and Dance
Who Knows What's a Kudo?
I Don't Understand
Be Good to Yourself
Better Together

H-o-n-e-s-t-y
The Magic Word
Quirks The Golden Rule
Six Little Kids
Other Song Collections include
Social Skills and Bullying
Respect and Responsibility
We decided to start each morning with one of the Songs just about every single morning, even on the weekends. We actually used the Fun Workbook and Songs along with most of our Bible studies. The Kiddos took to the activities and crafts right away. We even found some homemade gift ideas to share with Friends and Family. The Kids made Puzzle picture frames, Memory trays, name mobiles, and helper coupons. They played charades, completed word searches, mazes and writing pieces....not to mention some really good coloring pages! So, getting my Kiddos to do this part of their homeschool was easy to say the least.
I have used other Character Building programs in the past and even still do. I wouldn't say this would take the place of those, but it will add a Special touch to what I am already doing. Like a bright star sticker at the top of your "A" paper. This is something I will use time and time again. Take a look for yourself and let me know what you think about Happy Kids Songs.