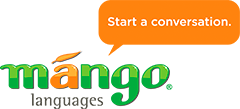 Just saying the Word Mango makes me Happy! We were given the Opportunity to try the Beta Version of Mango Homeschool Edition from Mango Languages over the past several weeks. I am always Thrilled to try a new Foreign Language program. I have a little Back Story about my Luck and Foreign Languages that involves Me, Three Semesters in College and a Very Nice Spanish Professor. Let's just say I continuously try to redeem myself. :)
Anyway, Mango Homeschool Edition is Recommended for ages 6 - Adult. Mango Languages has been around for about 7 years. They started in the public library sector and are expanding from there. This Program is Super easy to install, you can use it on Mac or PC and any Browser will work just fine (

Internet Explorer, Firefox, Chrome

). One of the Great Advantages to this Program over others I have worked with in the past is that there are No restrictions on how many Languages your student gets to learn and it's self-paced.
Over the next several months, they'll be introducing other exciting features like:
*Enhanced Tracking and Progress Monitoring - including seat time (for students and parents)
*Goals and Personal Lesson Plans (both stand-alone and tied into Mango courses)

*Resume and Portfolio Builder

With a Membership You currently get:
Over 60 different languages
Progress Assessments

Built-in journals, discussions and wikis
Collaborative learning spaces
eNote messaging
/chat rooms

Access to embedded/downloadable content

Support from other community members

Calendars to schedule meetings or study groups
1 subscription is $18/month or $125/year total
2 subscriptions is $28/month or $175 /year total
3 subscriptions is $38/month or $225/year total
4 subscriptions is $48/month or $275/year total
5 subscriptions is $58/month or $325/year total
Anything over 6 subscriptions is a special Group Rate that will depend on the number in the group.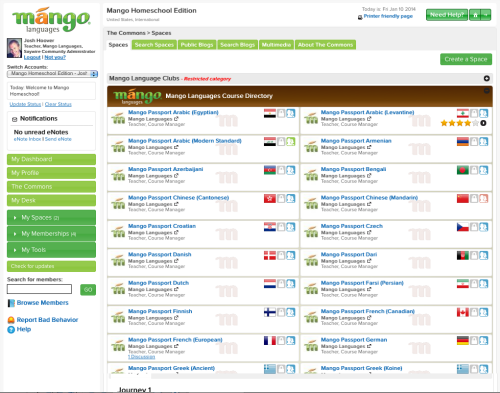 Mahala wanted to Learn Vietnamese and brush up on Chinese. Kaden wanted to work more on Spanish. The kids did a Semester last year learning Spanish. And last, but not least I decided to brush up on my German Skills. I will say the format of the program worked well for Mahala(14), Kaden(7), not so much. Kaden wanted more interaction, he suggested fun games or an offering of multiple learning styles. I agree with him, for older kids and adults this is a Perfect Program. But, for Elementary Kiddos it may feel a little Repetitious. It could be just Kaden, but he asked to study words on flash cards and needed to write out the new words as he learned them. He loved hearing the pronunciations and would often play them over and over until his tone matched the speaker's. I liked that you could repeat sections and even whole lessons over and over. Mahala and I had a totally different experience, she liked that the Lessons were fairly Short and Easy to digest. I never even had to ask her to do her lessons. For me, I looked forward to getting through each lesson and feeling like I walked away knowing just a little bit more. Mahala and I kind of had a little Contest going to see who could get through the most lessons. She won and I had to take her out for an ice cream!! :)
So, would we use Mango Homeschool Edition from Mango Languages? I would, but only for Mahala and I. I personally am pleased with the Pronunciation and Grammar help the program offered. And I also thought the Phonetic Spelling in the lessons helped make it less difficult to learn a New Language.
Go on over to the TOS Review Crew to see what other Reviewers thought of this program!
You can find Mango Languages at Twitter, Facebook, and Pinterest.