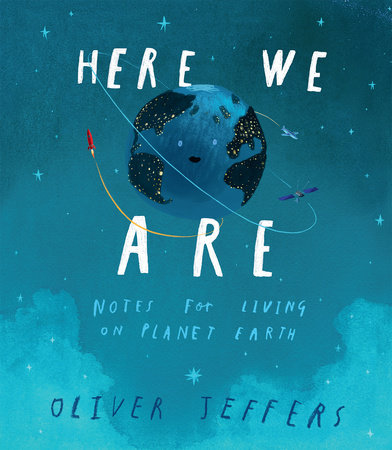 "Our world can be a bewildering place, especially if you've only just got here. Your head will be filled with questions, so let's explore what makes our planet and how we live on it. From land and sky, to people and time, these notes can be your guide and start you on your journey. And you'll figure lots of things out for yourself. Just remember to leave notes for everyone else… Some things about our planet are pretty complicated, but things can be simple, too: you've just got to be kind."
I have this Mama heart that seems to get all warm and fuzzy when I hold a picture book in my hand. Don't get me started about water works, my eyes were almost leaking when I grabbed Oliver Jeffers newest book called
Here We Are: Notes For Living on Planet Earth
. The most precious collection of prints and words I have ever seen. I have to tell you I took off this hardcover book's jacket and was oh so surprised with the beautifully inlaid stars and squishy Earth right in the center.
ABOUT THE BOOK
HERE WE ARE: Notes for Living on Planet Earth
Written and illustrated by Oliver Jeffers
Philomel Books; on sale November 14, 2017; 9780399167898; $19.99
In this moving and thought-provoking book, Oliver takes the reader on a journey, introducing planet Earth with all of his signature wit, gentle humor, and stunning illustrations. With a complex view of our planet's terrain (bumpy, sharp, wet) to a deep look at our place in space (you are here) to a guide to all of the animals (they can't speak, though that's no reason not to be nice to them), Oliver Jeffers creates an insightfully sweet guide to life on Earth.
While reading this sweet book I couldn't help but think about the water, how fun it is to explore and collect amazing treasures. You have rivers, ponds and lakes, but my favorite is the ocean. Sea turtles, crabs, floating seaweed, co
ral, rocks, sand dollars and of course shells. If you want to wade in some tide pools or go shell collecting you have to have your very own Ocean Explorer kit!
Okay, so what goes in one of these kits? Number one thing is a little storage container for holding things like drift wood, stones, sea glass or shells, we even collect a little water too most of the time for studying under the microscope.
You must have a small shovel, water shoes so you don't slip on the rocks or hurt your feet. Lots of sunscreen, a journal to take notes and draw in, some water and snacks. But, beware of the "soggy Sandwich"! What would you put in your Ocean Explorer Kit?
ABOUT THE AUTHOR:
Oliver Jeffers
makes art and tells stories. His books include

How to Catch a Star; Lost and Found; and the

New York Times

bestsellers

Stuck;

This Moose Belongs to Me; and

Once Upon an Alphabet. He is also the illustrator of the #1 bestsellers

The Day the Crayons Quit

and

The Day the Crayons Came Home, both written by Drew Daywalt. Oliver has been the recipient of some of children's books highest accolades, including the Nestle Gold Medal for

Lost and Found

and the Irish Picture Book of the Year for

The Incredible Book Eating Boy. An animated film of

Lost and Found

won a BAFTA for Best Animation in 2009.
His fine art is world-renowned and his dip-art exhibitions are a much sought-after event. Originally from Belfast, Northern Ireland, Oliver now lives and works in Brooklyn, New York, with his wife and young son.