A few weeks back we got a package from The Pencil Grip, Inc. filled with The Ultra Safe Safety Scissors and The 3 Step Pencil Grip Training Kit. We have enjoyed receiving products from them many times. This time I was most excited to try out their safety scissors.
Kaden is almost 11, but his motor skills and coordination is way behind. Usually I do most of the cutting when we do projects together in order to tame frustrations and keep him from cutting himself into a million little pieces. The concept behind their scissors is amazing!! Usually kid friendly pairs are dull and you have to position the paper just right to get them to actually cut. When we first took them out Kaden was highly interested in the design. Light red plastic scissors with a clear fused sheath to the bottom blade and handle. It offers enough protection that probably even the most determined to get cut children would walk away uncut. So, that is a mighty good thing and I would say that the scissors do their job protecting little ones and they are nicely sharp. We had no problems cutting regular paper and even card-stock. There is even a little yellow lever that when in use helps the scissors spring back open with each cut.
Unfortunately for us and Kaden's special needs they just didn't work out. He had a hard time maneuvering them because of the clear fused sheath. You have to feed the paper between the blades and for him and his motor skills this was just too much for him to accomplish at this time. I still think it's a great tool and will be passing these on to another family with young kiddos.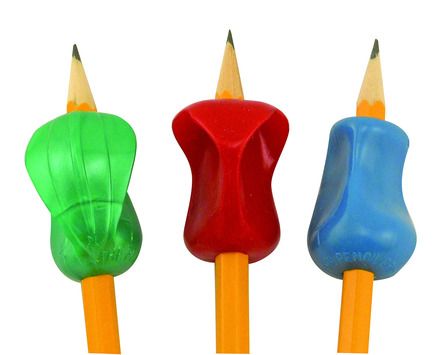 The 3 Step Pencil Grip Training Kit we were kind of already familiar with their individual pencil grip that they had kindly given to us during another Review a year or so ago. We find these sweet little gems extremely helpful!! In the kit we received The Crossover Grip which is step 1, The Pinch Grip that's Step 2 and the final step called The Original Grip. They each give your child a comfortable guide to proper pencil holding. Kaden suffers from hand fatigue like seriously no joke after writing 2 sentences he has to shake out his hand. The 2nd and 3rd grip gives him the most relief. I never have to ask him to put one on his pencil or pen. He is all smiles and can write much longer when he uses his grip. I even started using The Original Grip when I write for long periods of time, because my hands hurt after long writing sessions. I find it extremely helpful.

Make sure you Connect with them on Social Media this week.