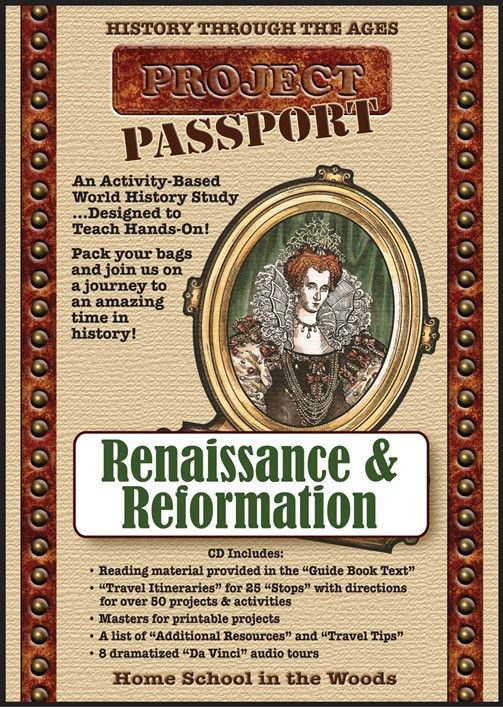 The other day I downloaded my next Review product from the Amazing Home School in the Woods. I just love everything I have ever used from them. This time I was able to take a little journey with their HISTORY Through the Ages Project Passport World History Study: Renaissance and Reformation. I always set out to teach History in order with the Kiddos and then something cool like this comes around and I get off track. We were wrapping up American History later this month. But, this was a pleasant side track...we are going on a trip....a History Trip.
I received everything conveniently in a zip file by email, downloaded the files and then stocked my printer with paper. You will need to do that because you are about to "work" your printer overtime. :) There are some things that you don't have to print if you don't want to. Most of the reading portions and even the itinerary I view on the computer. I actually write out any activity, craft or resource I will need reference for in my planner that stays open always on my desk.
Our Project Passport Study we are using this time is geared towards Kiddos in grades 3 to 8, but it could easily work well for both younger and older Kiddos with just a few tweaks here and there. Mahala is much older and found it enjoyable to help along the way with Kaden....almost like a tour guide on "our trip". If you work on the Unit Study 2-3 days a week it should take about 6-12 weeks to finish completely, but it does depend on how many activities you and your Kiddos decide to do at each stop. We tend to take a little longer most of the time.
Let me back up here....I'm getting a little ahead of myself. This program is designed as a trip back in time. You will have an itinerary for each stop in time that you take. Activities like cooking, crafts and games to do along the way. You will have a scrapbook, snapshot timeline, souvenirs. postcards, make a newspaper....I mean this is so packed full of adventure my mind gets blown each time we start a new Project Passport!
Okay, now let me tell you how we used this program. Kaden is a bit of a all in and then all out kind of Kiddo. So, we take many many breaks when it comes to hands on materials. He learns by doing, but his hand skills are not his strong point and he is about as crafty as I am mathematical. Not a bad thing, we just set up a plan as to what he will do, what I will help him do and what I will completely do all myself so that I don't loose my mind. He did all the reading, I organized and cut most of the pieces needed for timelines, activities and such. He glued, stapled and help color...I have been designated the main coloring person though. :) He is in charge of all the recipes, I am the clean up crew....and purchaser of all the ingredients....lucky me! This particular Era only offered one cooking session, which was making Anise Cookies. But, we roasted up some turkey legs, made a broth soup and have a few more things on the books for the next few weeks.
We do tend to take this a little slower then probably a typical child would need to. Kaden enjoys this program, he learns while using all the different activities and resources provided. I love and appreciate all the extras Home School in the Woods provides, it has enhanced our learning experience. Yes, I said our learning experience because I learn so much right along with my Kiddos.
I highly recommend this to any Family wanting to come together and learn more about these time periods. This is a hands on program. You can't just say here go print this out and work quietly on this. This program does require some parent child team work....but that's part of the FUN! I look forward to the other Project Passports I haven't tried yet like the one for Ancient Greece and the newest one for Ancient Rome coming out next year.