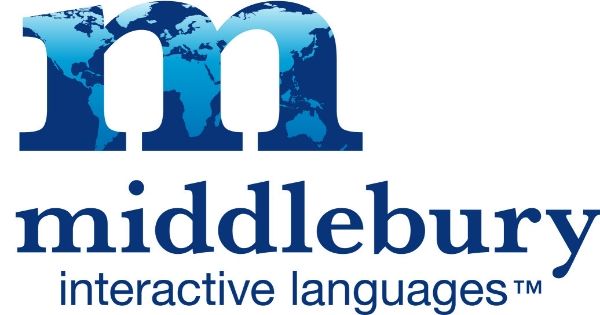 Foreign language is a hot topic in our house, we have a thirst for it. I was very eager to try Middlebury Interactive Languages' High school German 1 Course. We were kindly given a full Semester of classes a few weeks ago. I was never given the opportunity to learn a foreign language growing up. It has been something I have true regret not pursuing a language as a college student or even as a young mom. Now I have immersed myself in Italian and German. My Kiddos will and do have many opportunities to learn as many languages as possible. I feel knowing another language opens up a new part of the world for you to explore and enjoy.
Middlebury Interactive Languages has courses for your Kiddos in grades K-12, each
designed by linguistic experts. Their courses provide an
interactive immersion-style learning experience. I felt their way of teaching to be very refreshing and out of the "typical homeschool foreign language box". :) This is the way to learn, you can learn this way 100x better then just getting bogged down with repetition. By combining written words, pictures, audio and short videos you will find that the information gets plastered into the mind not just stored in the short term memory box.
Not all languages are available in all of the grades, so make sure to check out their website to see if your desired language is in the grade that you need. I felt that the course was designed with the Kiddo in mind. The lessons are not overwhelmingly long and definitely not boring. Each lesson it just over bite size, for us that's perfect. Not too much or too little. The Kindergarten - 2nd grade program has 35 lessons for each semester and the 3rd-5th grade program has 45 lessons per semester. Both of the Middle school and High school courses have 90 lessons for each semester. Once you get your course you will find that since it's self paced your Kiddo will need to do one lesson a day for 18 weeks. Or they can finish early with a few extra lessons here and there. :)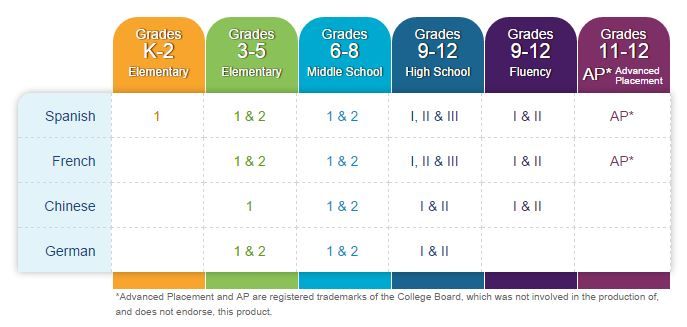 Since we were Reviewing the High school level it was Mahala's turn to give German a spin. Everyone else including Kaden has had at least a year of German. We love it, I love it, I think it's a beautiful language. You know I am not good with program set up and this usually scares me away when it comes to online programs or curriculum. This course couldn't have been any easier. I was shocked, heck our whole family was shocked. I had members of my family I hadn't seen in 10 years shocked at how easy I was able to start this program. :) Once we were all set up it was as easy as click on the lesson for each day. Mahala would finish it and a little green check mark would appear. A major thing I appreciated with this program was all the extras. It was exciting for Mahala to learn more about the German culture and people. It makes it come to life for a Kiddo of any age. We ate more sausages and German pastries thses past 3 weeks then I have in my whole life. But, hey I'm not complaining it was nice having Mahala engaged in something other then social media.
Each week Mahala completed 5 lessons on the computer. She wanted to use a few days to further explore and do written work, so she did those 5 lessons in 3 days. The other 2 she made flash cards and spent time researching. Her favorite part was the organization and the ability to figure the whole thing out on her own. Independence is bliss at this age. She also had fun recording all the audio. Even Kaden gave it his Best to repeat the phrases along with her.
So, will we continue using this program? I'm not sure, Mahala LOVES it and is learning. But, having other Kiddos coming up through the ranks it would be awesome to have it for the future if it was reusable. Having to pay for the semester for only the one Kiddo may prove to be too costly for our family. Mainly because due to the nature of our family dynamics we normally take breaks throughout the year. So, one semester may not line up just right for us to use completely. But, for the higher levels this may work, because they can work independently and take more responsibility for their own work. I think the cost is pretty reasonable for the quality product Middlebury Interactive Languages has to offer, it's only $119.00 per Semester.