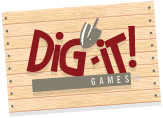 I'm thrilled to be able to share our experience with Mayan Mysteries from Dig-It! Games with you. We were given the opportunity to Review it the past several weeks. As you know Kaden is crazy about the computer, games and History facts. How could this be any better? Well, I could love playing it too......and guess what? I do enjoy playing right along with him. :) This game is recommended for Kiddos in grades 5th-9th. There is Heavy Reading involved in this game and for younger Kiddos or those with learning disabilities they may need extra time and help. I love the option they offer to have the passages read to you.
I don't usually enjoy online games, but will occasionally help Kaden out from time to time especially if they are educational games. But, this game has definitely caught my attention. Right from the start the graphics were amazing and the story line is easy to follow and exciting. Right from the start the main characters Fiona and Charlie are on an adventure with their Uncle Alex. The game revolves around the excavation of the Mayan ruins. As soon as the game begins you are introduced to the characters and get to know a little about their lives. It sets the stage for the game and then the fun begins!!

At first I had Kaden working alone, but since he is behind mentally a tad, even though he reads many years past his current grade. The length of reading was difficult. He could read it all, but when I would check on his comprehension it wasn't sticking. If I read only a few sentences and then checked his comprehension it was much better. We were able to modify the game to where it worked for him, that's important with a Kiddo with special needs. He was getting frustrated in the beginning, but once I decided to read it to him or play the sound on the game and have them narrate it to him it was all good. I have to add too that the voice was nice and clear and not weird robotic sounding! YAY!!! For Kaden I just needed to slow it down and constantly make sure he was getting what he was reading.
There are so many cool things to this game, layers and layers of interesting information regarding the ancient Mayan people, culture and customs. We walked away truly more educated then I thought possible. Kaden loves facts and the game aspect makes learning all these facts fun and I believe helps them retain what they have learned easier then just reading about it in a book. I wished they had a game for a few more topics! :) Once you install it your Kiddos are going to be able to power through many fun filled levels, score some hefty achievements, collect ancient artifacts, scare off crazy Looters and so much more. Kaden's favorite was shopping and looking for items in the market and out in the gig site. He enjoyed matching counting, matching and deciphering. He literally wanted me to do out math lessons coded, just so he could decipher them.
So, what did we think? We both enjoyed it. I can see why this is geared towards Middle school Kiddos, but with the audio option it works for the younger Kiddos too with a little guidance and assistance. Is is worth it? I believe so if your child is a reader, loves History, if you are looking for a supplement to what you are using. Even just to have your Kiddos learning instead of playing mindlessly on a Saturday afternoon this is worth it. I personally plan to have him go through it once more after we finish it the first time. I look forward to looking at other game options from Dig-It! Games too.