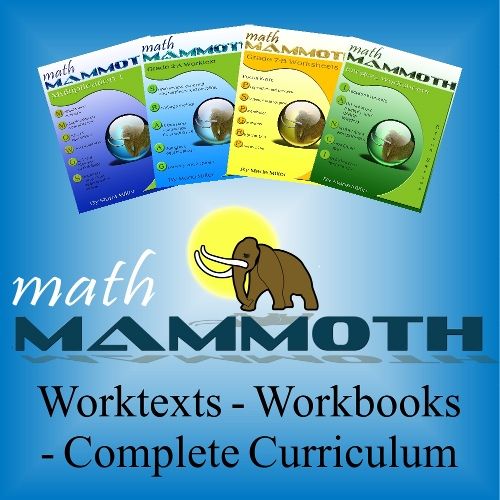 There is one particular subject that I dislike the most.... I would rather eat a handful of worms then to complete one lesson of it. If you know me then I'm sure you know the answer is Math. I have struggled for years to squish the Math shame I felt as a kiddo out of my mind. All of my Kiddos have the same struggle with Math that I did except for Kaden. He actually helps me out from time to time. :) Since I am Math challenged I love a good Math curriculum for not just my Kiddos, but for me too. Kaden and I have been working on the Light Blue Series Grade 5 Math curriculum from Math Mammoth. I'm excited to share my Review and experience with the Math Mammoth curriculum we used.
We received this complete 5th grade Light Blue Series set as a digital download all conveniently bundled up in a little zip file. This Series is a whole years worth of material. They have grades 1-7 available at this time. Not only did we receive all the Student Worktexts, Answer Keys, Chapter Tests, Review Pages, Tons of Worksheets and extras along with a BONUS Soft-Pak. Everything is pretty self explanatory except the soft-pak which is super cool!!! The Soft-Pak is filled with 6 programs.... you will find Math worksheets, activities, 900 on screen word problems with built in calculator to help with mastery. There is also a True and False Math Challenger and over 4000 words in the Language Arts portion to work on Reading, Spelling and Grammar. This is all provided to assist you as the Teacher, but to also give your Kiddo the ability to have some extras to make learning fun.
What I like about Math Mammoth is that it's organized by topic and it has a mastery approach. For me learning that doesn't work, I need a more spiral approach. Kaden though learns fast and wants to move on. Maybe review it once again in a few weeks, but basically he's like a freight train heading off into the Math horizon with me screaming in the distance for him to wait for me!! :) Even though he doesn't like a lot of bells, flash and whistles he did make use of the lengthy Internet Resources given. Some of his favorites were the games of course....like the Math Mahjong, Money Multiplication, and the Prime number calculator. I usually let Kaden open one of these or another up before we start our Math lesson. There is a Placement Test that I urge you to take before you purchase your grade level. Kaden is all over the board grade wise, but I knew he needed help with fractions and it was always tripping him up.
This curriculum is really designed for Kiddos to navigate themselves, perfect for easy learners like Kaden. He just needs simple straight to the point instructions and the problems. And all I need is an easy to read Answer Key. Luckily for us Math Mammoth offers both to us....the Answer Key is organized by page number, so it's very simple to find what you need quickly. Kaden does all of his work on paper and then transfers the answers to the side or online.
So, what did we think? Well, Kaden was fine with it and it even sparked him to drag out forgotten games we had to practice even more. I do wish there was a little explanation for us as the Teacher to have in case we need help. But, where he is at I am pretty knowledgeable. But, it would be nice to have. I definitely see us using this the rest of the year and possible continuing. It does go along with Common Core, I don't usually like the round about teaching that comes with that. But, Kaden has learned to just skip it and just answer the problem. Overall, it was a hit with him and he is looking forward to Statistics and Graphing that's coming up in the Series along with Geometry. If you are looking for something different to try other than worksheets or online Math programs check out Math Mammoth. Reach out to them through Social Media today and don't forget to see what some of my Friends said about their experience with Math Mammoth below.