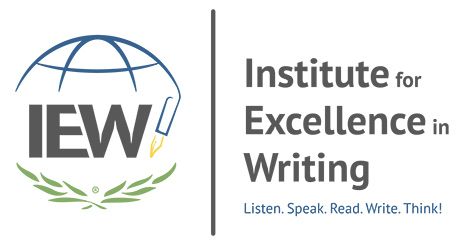 I remember as a child memorizing, reading and writing little Poems. It was a sweetness of my childhood that I fondly remember to this day. Unfortunately this day and age I haven't passed that Love onto my Kiddos like I had wanted. So, when I was given the opportunity to Review Linguistic Development through Poetry Memorization($65.00) by Institute of Excellence in Writing I was like a Kid in a candy store.
Here are the following items included in this set:
*Sturdy spiral bound Teacher Manual containing all of the Poems and Speeches
*CD case with 5 cd's with all of the readings
*Student Book E-BOOK pdf download
*Special DVD of Mr. Andrew Pudewa's Inspiring Conference Talk~
Nurturing Competent Communicators
*7 Audio Mp3 workshop Downloads from the IEW Website:
~Mastery Learning, Ability Development, and Individualized Education
~Ten Thousand Times and Then Begins Understanding
~On Listening
~On Speaking
~On Reading
~On Writing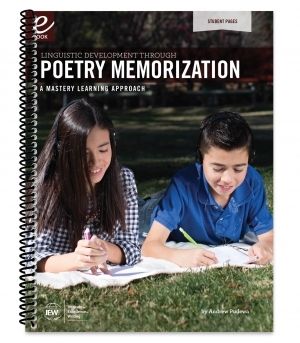 So, let me explain how we used these amazing tools. I decided to just use this with Mahala for right now, she is 16 years old. She struggles with ADD, so just remembering what she walked into a room for can be a problem. She was convinced even the smallest Poem was going to trip her up. We started each morning listening to the CD that went along with the Piece she was working on. I decided that next year I may have Kaden join Mahala because he gets up early in the morning and this would be something after Bible Reading he could do independently. These CDs are amazing and can really help with pace and inflection in your voice while reciting the Poem or Speech. Mahala is Artsy, so she made sure to color ever Poem that had a picture. This is a great Plus having the Student Book as a downloadable file, you can print off what you need when you need it. You can Purchase a Sturdy spiral bound Student Book Separately Online.... IEW was super generous and sent us to use and we have enjoyed the ease of having it all printed out for us.
The first few poems were super short and she learned them in a day or two with a few of the techniques taught to her. Right now she is learning My Shadow by Robert Louis Stevenson and she is taking it a few lines every day. Once she memorizes a Poem she moves on to the next and then on Fridays I have her review all of them that she has learned so far. She's on her 9th one right now....that Blows her mind and it's given her confidence in herself. I see it spill over into her other subjects also. :)
Will we continue using Linguistic Development through Poetry Memorization? Yes, and I look forward to using it with Kaden too. There are 5 levels to move through and the Poems and Speeches used are classics. I love that no matter how old your Kiddos are they all start at the same place. It's super easy to use and makes a great opportunity for Independent Learning. Not only is the content, CDs and Downloads outstanding, but in the back of the Teacher's Manual you have lot's of FUN EXTRAS!!! My personal favorite is the Biographies, this sparked Mahala's interest to head to the Library and pick up other Books and Poems written by these Authors. That made this Momma real Happy! :) In the back you will also find a plethora of Lesson Enhancements for each Level. For Example for the 1st Poem.... Ooey Gooey we studied worms. For the Celery Poem we read the book Stoned Soup and did an experiment by comparing veggies before and after cooking them. We've learned about Tibet, discussed Imaginary Friends and learned more then I ever thought possible about vultures. I can not wait to get further along and learn even more with my Kiddos.
I think that this program fills a gap in our Homeschooling that I didn't even realize was there. This is an effortless way to build and strengthen your Kiddo's brains, expand their Vocabulary, boost their confidence and encourage their articulation skills. Mahala has a fear of talking in front of others. But, with this program she has more confidence in herself that I see her sharing her memorization skills with just about anyone who will listen. :)