My final Review for the year is one that I figured would be a winner all around when I heard about it. For the past several weeks we have been using the Old Testament 1 Level 3 Creation to Jacob (for ages 10-12) and a Teacher's Book from Grapevine Studies. This curriculum is by far unique and in a league of their own with the use of Stick Figures to teach their Bible lessons. I think it gives even the youngest Kiddo the opportunity to learn about God's word. Like I said I was very hopeful that this would be a fun way to go through the Bible with Kaden. He has read through
the whole Bible twice already and can have total conversations regarding Biblical events. He is only 8 years old, but his love for scripture is strong. But, he's just 8 years old, lighten up a little and have some fun Kaden. The concept Grapevine Studies offers You is the ability to teach Biblical Studies with simple studies for Kiddos of all ages. Their Early method is to use the "Hear-Draw-Review" approach. This is from as young as the pre-school age. Once your Kiddo gets a little older, they will begin with the Read-Draw-Review which progresses further with age. Here your Kiddos will be introduced to more Scripture, Bible Geography and learn how to use Bible Study skills. All of their products are available Printed or as Digital Books. You can go and find out more about each of the Levels offered and make sure you try out a Sample of one of their Studies.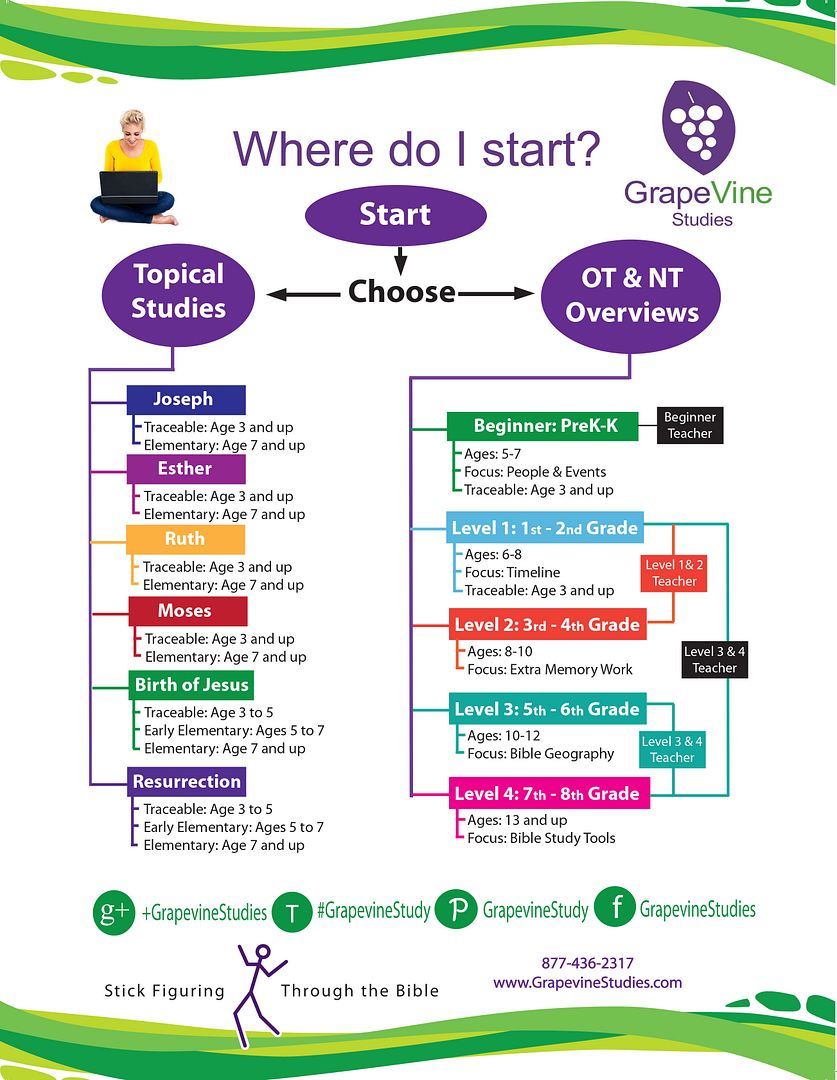 Level 3 has 12 Lessons, I'm going to go over what we attempted to do 2-3 times a week. Each day we Reviewed the Timeline that we made at the beginning and with each lesson we add on to it. Next we have our Bible verses that we are working on to memorize. Right now we just finished Lesson 6 tonight....it was on the Tower of Babel. Kaden can go on for days about this particular story. The Sections for this particular Lesson in The Landing, Noah and His Family Worshipped, The Promise, The Sign of the Promise, God's Command, The People Gathered and Built, God Confused the Language and The People were Scattered. As you read the selected scriptures and stories you go through the pages and fill in "stick figure" drawings to go with the lesson. After all the Sections are completed your Kiddo has the opportunity to draw their Favorite part in the Lesson they have just studied.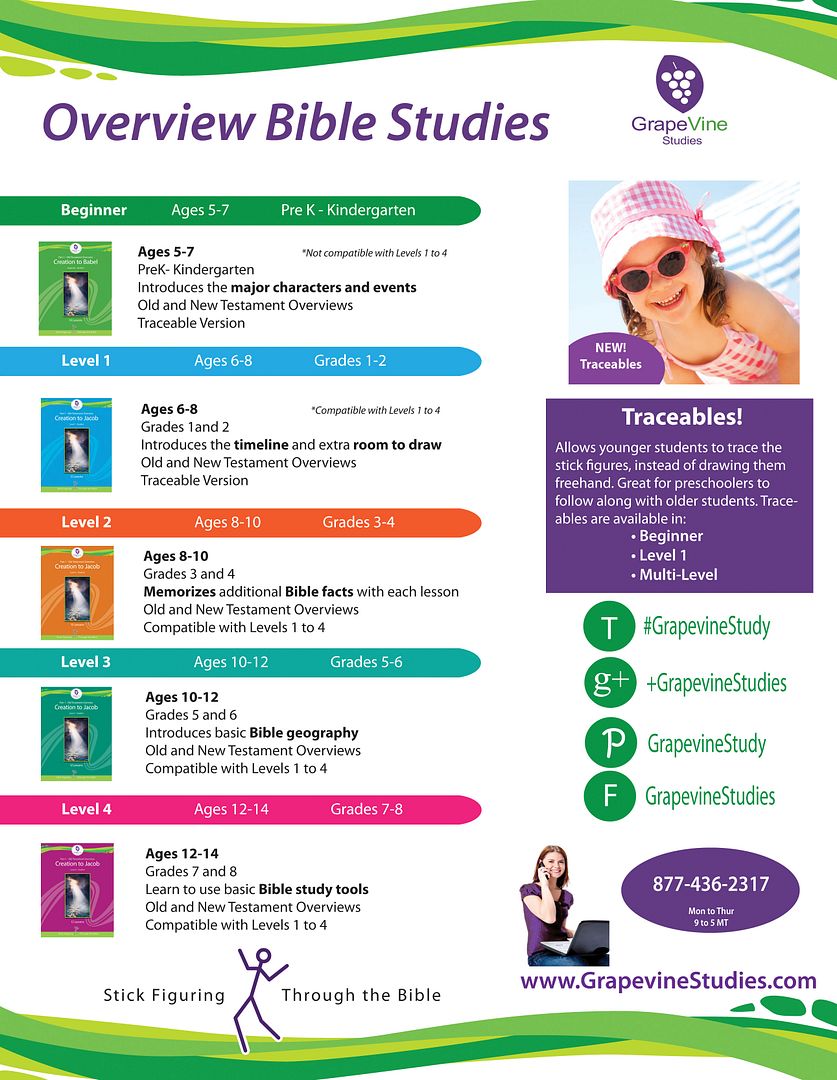 This sounds like so much fun and I truly thought my Kaden could loosen up a bit and just maybe I had hit a secret gold mine. Well, I was no where near a gold mine in his eyes, at least for him. So, I would say if you have a literal, closed minded Kiddo that doesn't like to walk of the designated path EVER this program may not be for them. Mahala, who just turned 16 actually thought that it was a non-threatening approach to someone who may be new to God's word or if Studying the Bible is new for them. Her and I actually did most of all the drawings and Kaden looked up all the scriptures and even took on all other readings for the Program. We are at the half way point with the 12 lessons and he still wants to complete all 12 of them, can't complain about that. :)
Would we use this program again? It's so hard to say, because I LOVE the Program and think that it's an amazing Method to get your Kiddos in God's Word. But, I can't justify the price if he's not fully committed to drawing. As I'm writing this I had a quick thought....Kaden's drawing skills are way bellow average, that is just one of his deficits that he has from being on the Autism Spectrum. So, I hadn't thought about the fact that that could have some play into why he is not willing to draw the pictures out. But, it's okay, not every program out there works for every single Kiddo...they are all Special in their own ways!! :) As he progresses and continues to meet milestones maybe we can look into this program again.
But, would I recommend it? Absolutely and especially if you have a creative Kiddo or one that needs help staying focused on a lesson. My oldest Son would have benefited from this program growing up because he had a had time focusing for more then 10 minuted. This program would have kept him engaged! :)
Take a look into it, it's definitely worth the time to check Grapevine Studies out. You can stay in touch with them to with Social Media!
Google+
Periscope: @Grapevine Studies