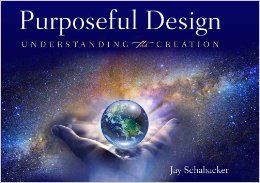 Many are the Plans in a Man's heart, but it is The Lord's Purpose that Prevails. Proverbs 19:21
I have another super treat to share with you today.....Purposeful Design has given to us a Beautiful hardback book, Purposeful Design: Understanding The Creation. It is an award winning book written by Jay Schabacker. He wanted to share God's Wonderful Creation to the children of the world. This book walks you down the creation path revealing all the principles of science that makes our world work. Knowing, seeing and understanding God's Love that he has for us is so apparent in the pages of this book.
The Author, Jay Schabacker has done an amazing job with this breathtaking full-color book.....the photographs alone make me love this book. Then you add all the other goodies and it's easy to see why this book will sit on my coffee table stack for many many moons. Yes, I have a stash of picture books and book-book Favorites.
There are seven chapters and 91 pages in this book. And each of the chapters pertain to a particular day in creation.
Chapter 1 – The First Day:
Creation of the Heavens and the Earth, the Foundation of it All ~ here you will find a little morsel from Albert Einstein....Kaden's favorite scientist and learn a little bit about just what it is that keeps us all moving around.

Chapter 2 – The Second Day:
Creation of the Atmosphere and Water ~ the beauty of the Rain Cycle is found here. Learn about the different water on our earth and how much we have and what would happen if we had too much or not enough.
Chapter 3 – The Third Day:
Creation of the Dry Land and Vegetation ~ The importance of vegetation is all around us. We couldn't survive without them.
Chapter 4 – The Fourth Day:
Creation of the Sun, Moon, and Stars ~ So much is packed into this chapter....About our Seasons, cause of Climate changes, Stonehenge, our beloved Moon, the Tides and our stars.
Creation of the Birds and Fish ~ Learn why birds and fish were created.
Creation of Land Creatures and Humans ~ Here you will learn about land animals and about the human body. Great info in these pages.

Chapter 7 – The Seventh Day ~
Here shows the importance of rest, even though it is the shortest chapter it's important. It has some beautiful verses in it.
Every chapter begins first with a scripture for each day of creation. From there you experience all the Scientific explanations and details pertaining to that particular day

with mini science lessons. I feel like this is a great way to present this subject to Children, I really have nothing but good things to say about this book.

I feel that every chapter captures the Master Designer's plan and his purpose for everything he created.
This book in itself is a valuable resource that can add a lot extra to any home. But, when you add the free Young Explorer's Club workbook, it could totally become a pretty substantial Science study. As I said the Young Explorer's Club is a freebie to go along with the book.

It is a PDF file that has 7 sections that correspond with each chapter.

It's easy to just download and go. Nothing really extra to plan out. A major plus!! Each chapter of the workbook reflects on what was discussed in the book and includes questions that are both open ended and discussion. The Kiddos will answer either fill-in-the-blank or multiple choice questions too. The Kids will also learn additional verses and have the opportunity to do some fun hands on activities. As the Teacher you also get a Teacher's Answer Key and a Certificate of Completion for your Kiddos to have once they are finished. That's a nice way to wrap up the Study! :)

We decided to use this book as a Family read. We read all the time so this was how we started our review. First we gathered around together after dinner one night and just flipped through looking at the pictures and stopping only on the topics that stood out to us individually. I decided to just leave it out in the living room. I figured it would get picked up on the random....I was right. A few days later we sat down with our workbook and decided to take the book one chapter at a time. We did for the most part, but there were a few chapters that we doubled up on because they were just that interesting. :) We worked though the workbook fairly easily. I will say for Kaden the questions were a little much. And writing sometimes is difficult for him, but Mahala is 14 and had no problem at all.
I was going to give a Pros and Cons list, but instead I'm just going to give this book a huge thumbs up. It's beautiful and purposeful, it explains the miraculous Creation....What is negative about that. I feel so Blessed to have read this with my Kiddos.
Purposeful Design: Understanding the Creation Won the 2013 Illumination Book Awards and in 2014 it received a bronze medal in the Coffee Table category from the Catholic Press Association.