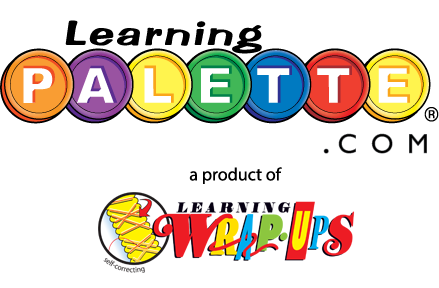 Kaden and I was able to Review another Great product for the past several weeks. We received a full year's Subscription to LearningPalette.com from Learning Wrap-Ups . The subscription included full access to all the levels of

Reading and Math

cards for up to 5 users.
There are over 7,000 questions available and the Kiddos get to work through one card after another. And receive instant correction if they answer wrong. I had never heard of this product before so I was really eager to get started.
These are geared towards Kiddos in grades K-5th.
The Cost for the Online Program is only $59.99 for up to 5 users. (Get an Additional 20% discount when using the coupon code of HOMESCHOOL)
Check out a Free Demo of the Online Program HERE.
The card format looks like a painter's color palette. Each card consists of a circle divided into pie pieces. Each pie piece has the question or answer on it and a
Brightly Color

coded disc. The Kiddo is to match the question and answer with the coordinating
Brightly Colored

disc that's located on the left-hand side. This is done with the mouse by dragging the correct colored disc to the answer on the palette. The Instructions are very minimal and really is designed to be for practice or review. This is not to teach your Kiddo new concepts.
A few times a week before Kaden's Math time or before therapy I would have him log on. I used it more for a Jump start and filler between subjects. He would get frustrated with the Colored Discs because if they got too close to the edge of the screen they were lost forever. So, he would have to close out the card and start over. That was pretty disappointing to him, especially if he was close to being finished with it. Out of the Reading and Math cards he says the Reading was his Favorite. I think it becomes a little annoying to try and get the discs in the exact right spot every time. Maybe it's his motor skills that made this a little hard for him. But, as a Mom I was happy to see him getting some work in that department too. For the child though, maybe not so much. :) He also liked that there was No sounds at all. But, to the typical child maybe they would like sound. To Kaden, it was nice to not have all the silly noisy as he calls.
Overall, it was fairly easy to use
LearningPalette.com once you navigate through the minimal instructions. It would have been nice if with each section there was a short video lesson. But, I realize this is really more of a "drill" approach program. We will continue using it through the Summer here and there. But, mainly the Reading portion. That's were I see more of a benefit for Kaden. The Vocabulary and Reading Comprehension Questions were our Favorites.
So, would I recommend it to Friends and Family? I would suggest you to take a look at the Demo mentioned above to see if it's a good fit. It's not something that would work for Kaden, mainly do to aggravation and lack of New instruction. Check out Below what other Crew Members had to say about the Online Program I reviewed and
Learning Wrap ups' physical products too . :)